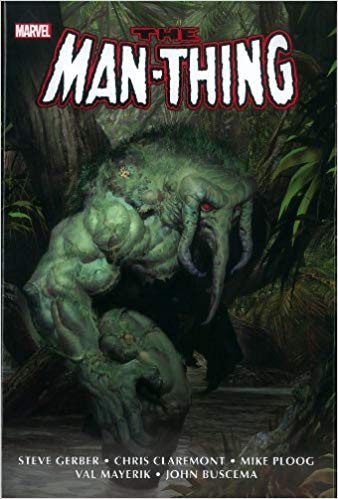 The Man-Thing Omnibus
This is my Man-Thing bible. The massive Gerberian uber-text. This is what I read to prepare the episodes. A simply wonderful – and heavy! – tome that collects Man-Thing from his very first appearance up to the end of the Gerber run and a little beyond. If you are a fan of horror/fantasy/weirdness with a little satire and parody thrown in this is the volume for you.
But be warned this is a bit on the pricey side. I bought this several years ago and it was in the $60 USD range but a quick perusal of Amazon has it going in the $100+ area. But if you have the cash and you love this character it is well worth the money. So don't be afraid, because those who know fear…ah, you know the drill.
COLLECTING: SAVAGE TALES 1; ASTONISHING TALES 12-13; FEAR 10-19; MAN-THING (1974) 1-22; GIANTSIZE MAN-THING 1-5; MONSTERS UNLEASHED 5, 8-9; INCREDIBLE HULK 197-198; RAMPAGING HULK 7; MARVEL TEAM-UP 68; MARVEL TWO-IN-ONE 43; MAN-THING (1979) 1-11; DR. STRANGE 41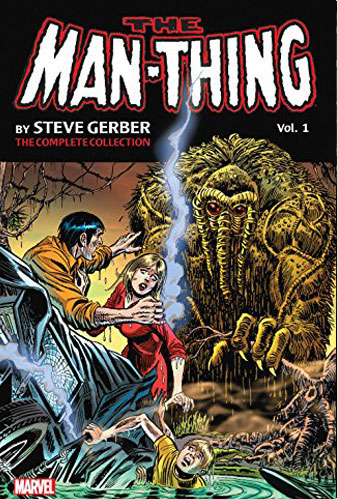 Man-Thing by Steve Gerber: The Complete Collection Vol. 1 & 2
If you are looking for something a little cheaper (and much lighter) Marvel released a two-volume set of trade paperbacks a couple of years ago that collects the entirety of Gerber's run. This is a great collection if you are interested in just the classic bits of the melancholy much monster.
Volume 1 Collects: Astonishing Tales (1970) #12-13, Fear #11-19, Marvel Two-in-One #1, Man-Thing (1974) #1-8; material from Savage Tales (1971) #1, Fear #10, Monsters Unleashed #5.
Volume 2 Collects: Giant-Size Man-Thing #1-5, Daredevil (1964) #113-114, Man-Thing (1974) 9-18, and material from Monsters Unleashed #8-9.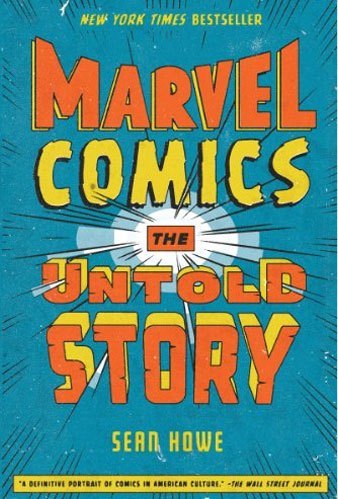 Marvel Comics: The Untold Story
by Sean Howe
This is a must for anyone interested in the history of Marvel Comics or just comics in general. As the title would imply (and by "imply" I mean directly states) this is an unofficial history so I guess some of what is written here should be taken with grains of salt…but it is a damn good read. It begins with the rise of comics in 1933 thru the tumultuous 50s, the rise of the "Age of Marvel" in the 60s, the weirdness and upheaval in the 70s (this is the bit I draw on quite a lot), on thru the 80s and 90s. It is filled with tons of behind the scenes stories and drama and interviews and comments from the creators themselves. This is a fascinating trip across an ever changing landscape of comic history. Very enjoyable, highly recommended.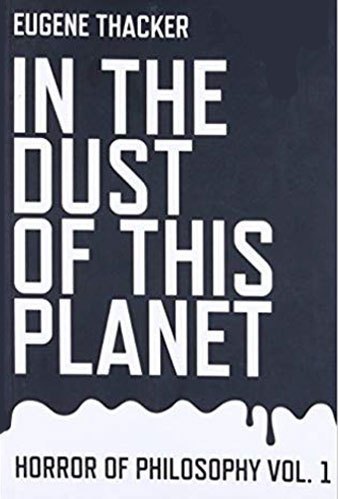 In the Dust of This Planet: Horror of Philosophy (Volume 1)
by Eugene Thacker
This is the first of Thacker's trilogy of the philosophy of horror. It is a fascinating read that seamlessly veers from classical philosophy to modern to occult and mysticism.  But this is not a dry academic tome, rather it is a thoughtful look at our world and the unspeakable things we encounter. It poses that horror, rather than being a something that causes suffering, is in fact a comfort. A way to embrace darkness and overcome it. There are also some great bits on why things scare us.
I was thoroughly entertained by this. So give is a go and if you think this is good read the next volumes: Starry Speculative Corpse and Tentacles Longer Than Night.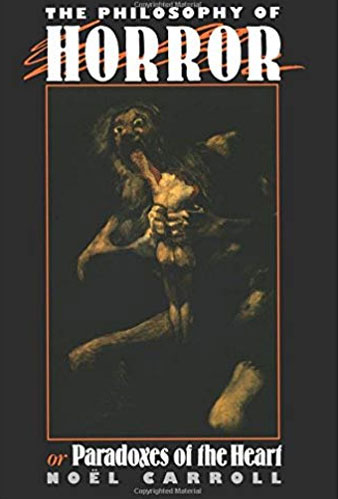 The Philosophy of Horror (or the Paradoxes of the Heart)
by Noel Carroll
This book takes a serious look into the aesthetics of horror. Carroll is a philosopher so comes at the material with a philosophical view (obviously) but he is also a film scholar and so adds to that the language of film. By looking at the classics of the genre as well as some lesser known and forgotten works Carroll attempts to philosophically analyze why people like to be scared.
I will admit I did find this a little dry to read and while I was intrigued by the content I did struggle a bit with the writing. Also, this is an older book so some may find it a bit dated. That being said it is definitely worth the time to read it if you have an inclination toward the horror genre. Also, as this is an academic book it is on the pricey side. New copies are really expensive –  like text book expensive – but there are used copies available that are reasonable.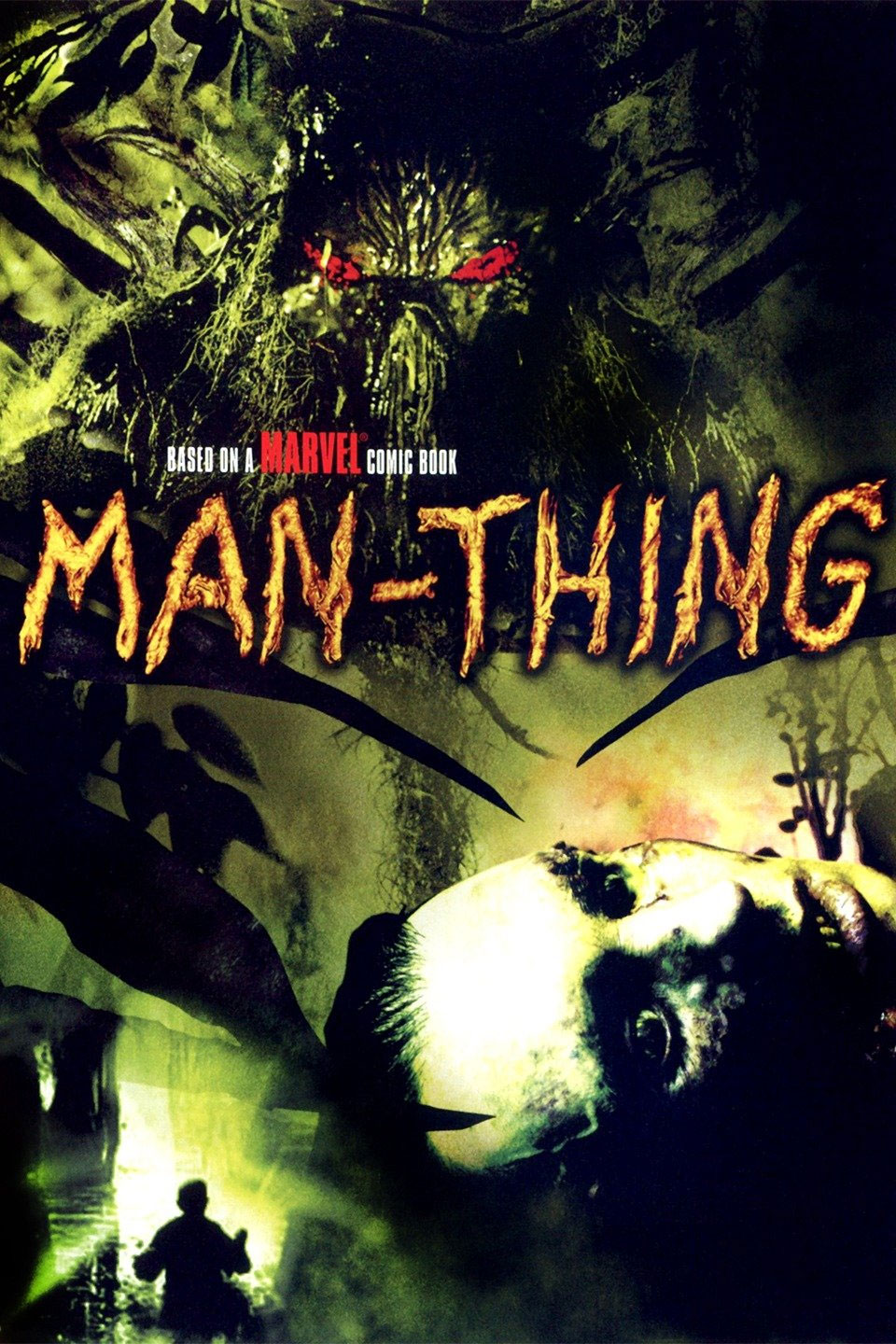 Man-Thing (2005)
directed by Brett Leonard
I don't know why you'd want to but you could watch the movie version I guess. I had to watch this "adaptation" (several times actually) in order to do a bonus episode so I suggest just listening to that instead of subjecting yourself to this film. But okay if you don't listen to the episode there's this:
Man-Thing directed by Brett Leonard and starring Matthew Le Nevez, Rachael Taylor, and Jack Thompson was released in 2005 from Lions Gate Films. And I can say with full confidence that of all the films released in 2005 – this was definitely one of them.
The final analysis for 2005's Man-Thing is simply this. It is not a good movie. But it is interesting as an artifact of a time before the explosion of comic book and super hero movies into pop culture. A time when anything was being tried to capture that sweet, sweet nerd demographic and various genres and characters both main stream and obscure were thrown at the wall. Literally, because movies are actually thrown on a wall – that's how we watch them. It is just a reminder of what a) should not be done when adapting a character to the screen and b) hopefully shows filmmakers what can be done with a creature like Man-Thing.